Easter doesn't have to be full of fat. It can be clean and delicious! I promise! So I rounded up a few recipes that you could set on your table for Easter Sunday, and no one will complain, I promise. You could even use these recipes on your everyday clean eating menu. The best part is your body and waistline will thank you later! So let's get started!
This roasted chicken is super easy and delicious!
Serves 6
Ingredients:
Instructions:
Cut the celery and carrots into 2-inch pieces. Add to the bottom of the slow cooker.
Rinse the chicken and pat dry. Place on top of the celery and carrots.
Top with salt, pepper, and paprika.
Cook on low for 5-6 hours.
Note: No water is needed – the moisture all comes from the vegetables and chicken. In the end, you will have a nice chicken broth!
2 1⁄2 pounds red potatoes, skin-on, 3⁄4 inch dice
1 cup plain Greek yogurt
2 green onions, thinly sliced
31⁄2 tbsp. Dijon whole grain mustard
A handful of dill, chopped
Instructions:
Add potatoes and enough cold water to cover in a stockpot. Simmer on medium about 20 minutes (do NOT boil), until potatoes are fork-tender. Drain.
Cool potatoes for 10 minutes in a single layer on a baking sheet.
In a large bowl, combine Greek yogurt, green onions, Dijon whole grain mustard, Dijon mustard, salt, pepper, and dill. Stir to mix well.
Add the cooled potatoes to the yogurt mixture and toss until all potatoes are well-coated. Pop in the fridge until ready to serve.
(Adapted from Table for Two.)
 Ingredients:
1 lb fresh strawberries, diced
1 lb fresh pineapple, diced
12 oz fresh blueberries
12 oz red grapes, diced into halves
4 kiwis, peeled and diced
1 (15 oz) can mandarin oranges in juice, drained well and sliced into halves
2 ripe bananas, diced*
Honey Lime Dressing Ingredients:
1/4 cup honey
2 tsp lime zest (zest of 2 medium limes)
1 Tbsp fresh lime juice
Instructions:
Add all fruit to a large mixing bowl. In a small mixing bowl, whisk together the honey, lime zest, and lime juice. Pour over fruit just before serving and toss to evenly coat (as it sits for a few minutes the juices will gather at the bottom, so toss again before plating).
*Add the bananas last so they don't turn brown and lose their sweetness.
(Adapted from Cooking Classy.)
Makes 4 servings (double the recipe if needed)
Ingredients:
Instructions:
Slice hardboiled eggs in half lengthwise. Remove yolks, add to a small mixing bowl and mash with a fork. Combine in a separate bowl the remaining ingredients, except paprika. Add yogurt mixture to yolks and stir to combine. Evenly divide mixture inside the egg whites. Sprinkle with paprika and refrigerate until ready to eat.
(Adapted from Skinny Ms.)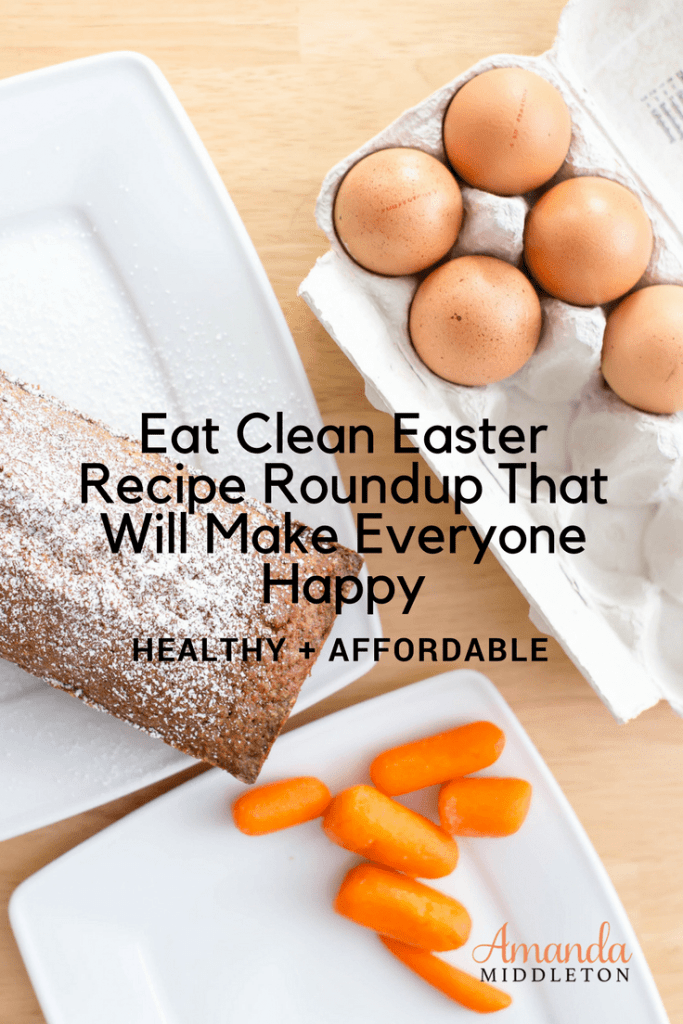 These recipes aren't the traditional recipes you are probably used to making, but try them this year! You may surprise yourself, and may actually like them and discover they aren't so bad after all. I know holidays are all about tradition, and here in the South, tradition is all about the food on the table. But, you never know, you just might find a few healthy traditions this year!
If you try any of these recipes let me know how they turn out and how the family liked it here in the comments or on my Instagram. I am absolutely obsessed with Instagram. I share a lot over there, and I hope to see you there too!
Have a  Blessed Easter!
Until next time
~xoxo
photo credit: wuestenigel Metal bowl filled with eggs via photopin (license)
photo credit: marcoverch Carrot cake and the two most important ingredients, carrots and eggs via photopin (license)