Last week I took to social media and talked about my neck pains. (More like whined about it honestly.) It was nothing serious by far, but gosh dang, it hurt. Not really sure what I did to it, but after seeing my chiropractor the pain subsided and all is well in the world again. When I mentioned the neck pain I also mentioned the homemade magnesium rub I made to help with the soreness. So many of you asked me to share my recipe, so here we are!
Magnesium is so amazing for so many things, so why not use it? Not only is it good for you, but it feels amazing and helps with soreness! You can read all about the many benefits of magnesium in my article, 14 Reasons Why You And Your Kids Should Use Magnesium.
Ingredients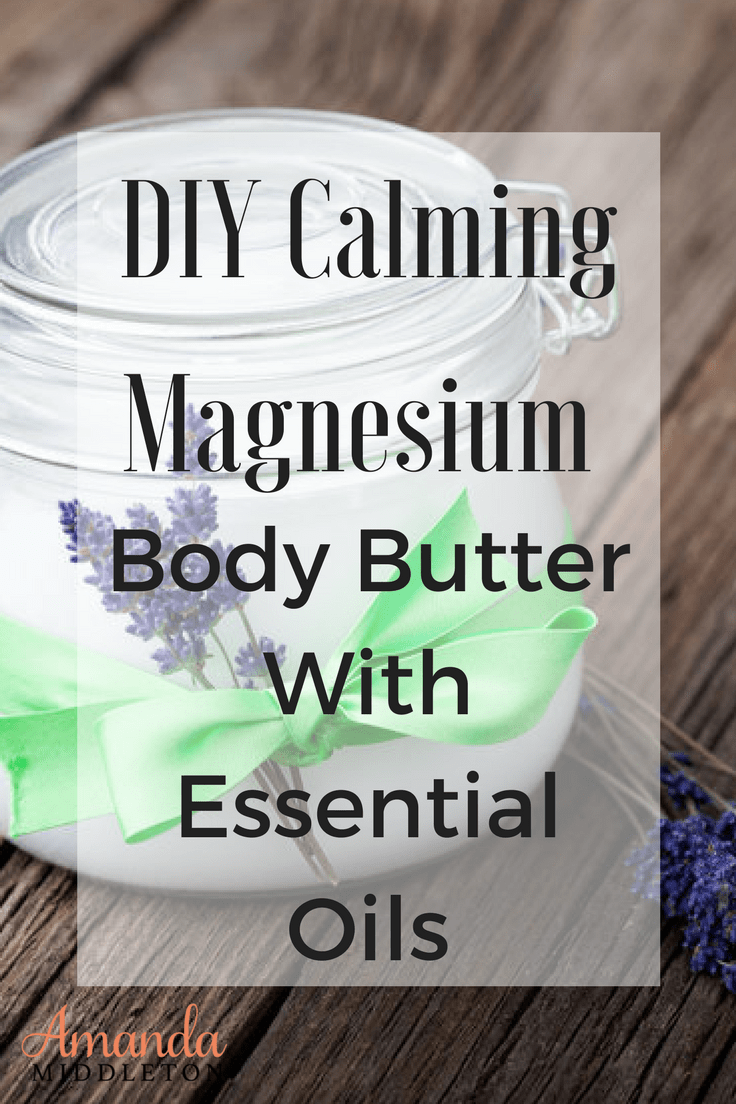 Instructions
add 1/4 cup of coconut oil and 1/4 cup of shea butter and melt in a double broiler or microwave in a glass jar

add 1 ounce of magnesium oil

cool for 30 minutes in refrigerator

whip for 3-5 minutes with a blender or hand mixer 

add 10 drops

each

of lavender essential oil, cedarwood essential oil, and frankincense essential oil

whip for another 5 minutes or so until magnesium body butter is light and fluffy
Tips
This recipe is for a bit more humid environment (such as, my environment). If you live in a slightly less humid environment try adding a 1/4 cup more coconut oil.
You can use magnesium flakes in substitution for magnesium oil if you are in a high humidity environment, but I am not a huge fan. I find that the magnesium oil is more effective.
Check out my Essential Oil Blends For A Healthy Everyday & Beyond! All blends have been tested and used by my family and I. Recipes and tips are included. All of these blends work for my family and I every single day. No more guessing which blends actually work! I have taken the guessing game out of it! OVER 20 RECIPES AND TIPS! Check it out today! 

Post may contain affiliate links. By clicking on the affiliate links you are helping support my family and this blog. Thank you for clicking and buying through our links! You are truly a blessing!